Yep, I know. I said nothing this week. Truth is, I've not had much to say. Nothing wrong, Just quiet. I thought though I'd end up my week of blandness with Hilary's Friday Fill in.
Each week, Hilary at Feelingbeachie.com, lists four statements with a blank for you to fill in on your own blogs. 
If you want to join the fun and come up with four fill in's of your own, please email them to her at feelingbeachie@gmail.com. If she uses them, she will add you as co-host to the hop! 

This week's co-host is Irene from Me, Myself and Irene (she came up with the last two statements)
She would LOVE it if you could please help me spread the word about this hop…. So, please tweet, Facebook share, and add the linky to your post…

This week's statements:
1. ___ is my favorite feature
2. Thinking about ___ makes me ___
3. It's been a long time since______
4. I just don't understand_____________

My Answers:

1. An illegal exception error is my favorite feature (in my world FEATURES refer to bugs in programming that aren't/ can't be fixed and so therefore are called FEATURES!
2. Thinking about ignorance makes me redundant.
3. Its been a long time since lunch.
4. I just don't understand quantum mechanics.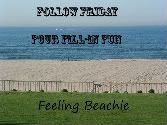 "/>